Ungefär på samma sätt som mjukvaruteknikteam övergick från monolitiska applikationer till mikrotjänstarkitekturer är Data Mesh på många sätt dataplattformsversionen av mikrotjänster. Som först definierades av Zhamak Dehghani, en ThoughtWorks konsult och termens ursprungliga arkitekt är Data Mesh en typ av dataplattformsarkitektur som omfattar allnärvaron av data i företaget genom en domänorienterad självbetjäningsdesign.
Genom att låna Eric Evans teori om domändriven design, ett paradigm som matchar strukturen och språket i din kod med dess motsvarande affärsdomän anses Data Mesh allmänt vara nästa stora arkitektoniska förändring av data. Till skillnad från traditionella monolitiska datainfrastrukturer som hanterar konsumtion, lagring, transformation och output av data i en central Data Lake, stödjer Data Mesh distribuerande, domänspecifika datakonsumenter och ser "data-som-en-produkt" med varje domän hantera sina egna datapipelines. Vävnaden som förbinder dessa domäner och tillhörande datatillgångar är ett universellt interoperabilitetsskikt som tillämpar samma syntax och databaser.
Istället för att återuppfinna Zhamaks mycket genomtänkta hjul kommer vi koka ner definitionen av en Data Mesh till några nyckelbegrepp och belysa hur det skiljer sig från traditionella dataarkitekturer.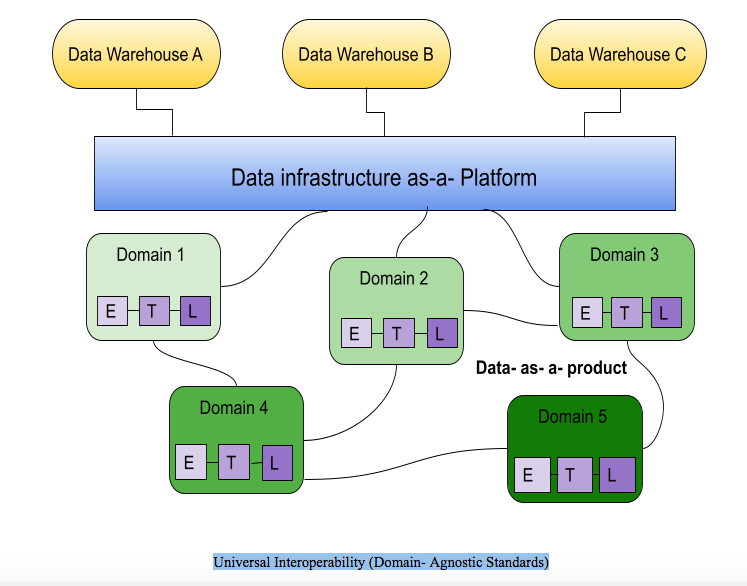 (För vidare läsning rekommenderar vi Zhamak Dehghanis artikel: How to Move Beyond a Monolithic Data Lake to a Distributed Data Mesh).