Hej! I den här posten kan du läsa mer om hur vi listat ut att du gör för att byta från Oracle till DB2.

IBM och Middlecon har hjälp mer än 2 000 kunder att flytta från Oracle till DB2. Det enklaste området att flytta är SAP. Det som kännetecknar dessa projekt är korta ledtider och väldigt liten risk. Dessutom kommer dina SAP medarbetare att känna igen sig direkt.
Har du egenutvecklade Oracleapplikationer så kan vi köra mer än 98% av PL/SQL koden direkt i DB2 utan behov för migrering. Med denna teknik kan alltså dina tekniker fortsätta köra PL/SQL och du kan säkerställa att dina DBAs kan använda de kunskaper som de redan har.

Hur är det då med support för IBM i SAP?


Application Server ABAP within SAP NetWeaver 7.00, 7.01, 7.02, 7.03, 7.31, 7.40 and 7.50
will be supported in mainstream maintenance to end of 2025 extended maintenance is
possible and SAP decides the time frame

–  DB2 10.5, 11.1 standard mainstream support until end of 2025 (SAP note 1168456)
–  Oracle 12.1 standard mainstream support until June 2018 (SAP note 1174136)
–  MSSQL 2014 standard mainstream support until September 2019 (SAP note 1177356)
–  SAP Hana 1.0 standard mainstream support until May 2019
Källa: SAP note 1648480 – Maintenance for SAP Business Suite 7 Software, PAM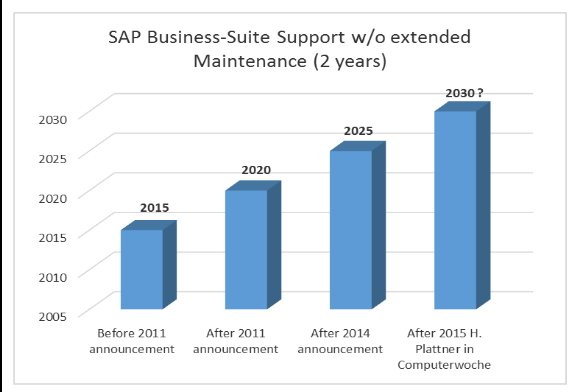 Förutom att du får tillgång till Middlecons duktiga DBAer vid en migrering, så kan du även köpa till en 2 dagars kurs för att ge dina erfarna Oracle DBAer ny kunskap för att köra DB2.
Lycka till!